DEye manual un-install
Click on the "start" menu, goto "Find", then goto "Find files or folders..."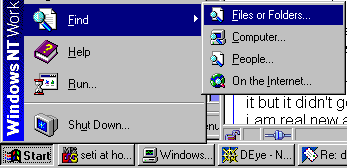 Type in "DEye" into the "Named" field, select the drive that you installed Deye on, or if you dont know, choose "My Computer" and click on "Find Now". This will take a minute or two to complete, it will display a list of files. On windows NT, it will look like this picture: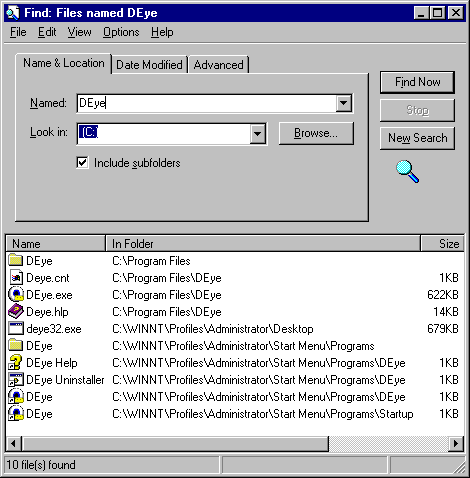 On Windows 95 and Windows 98, it will look very similar, but with "c:\windows\" instaed of "c:\WINNT\Profiles\Administrator\".
The file that is on the "\desktop" is the installer, you might have put it somewhere else.
If you have any files that are not listed here, DO NOT DELETE THEM
All of the files that belong to DEye have "DEye" somewhere in their name. If you are not sure which files belong to DEye, just delete the folders called "DEye", there should only be two. These folders contain the other DEye files, which get deleted when the folder is deleted. To delete an individual file or folder, click once on it and then select the file menu, and then select Delete. You may be prompted to confirm the deletion.
Make sure you only have files from DEye in the list, select all of them by clicking on the "edit" menu, and then clicking on "Select all". then delete them, by pressing the "delete" key on the keyboard, or by clicking on the "File" menu, and then selecting "Delete".
If during the installation you said yes to running deye when windows starts then there is one other file to remove, it is located in the "....\Start Menu\Programs\Startup" folder and it is called "Deye", click once on this to select it, and then delete it.
Deye does add a small amount of information into your registry, but this is a very small amount of information, it is just a description of how you had configured DEye. It will not harm your computer to leave it there, it is not reccomended that you attempt to remove it with regedit.exe as it is easy to damage all of the other programs on your computer if you use regedit incorrectly. It is reasonably unlikely that you would even gain any space on your hard drive from removing the setting.
DEye will now be removed from your computer.
Basics:
When I say "click" I mean pressing the left mouse button once.